Friday, October 6th
"Frightday Night" Halloween Party
7pm to 9pm

Saturday, October 7th
Halloween Havoc
Martial Arts Tournament
Followed by
Hall of Honors Dinner at 7pm

Sunday, October 8th
Super Seminar Sunday
starts at 10:00 am
Four – 1 hour seminars

Friday, October 6th through Sunday, October 8th, 2023 Presented by GM Dan Allebach & Master Joseph Mertz
in association with GM Cynthia Rothrock

Friday, October 6th through Sunday, October 8th
All events will be held in
Cherry Hill, New Jersey at the Holiday Inn on Rt 70
DIRECTIONS >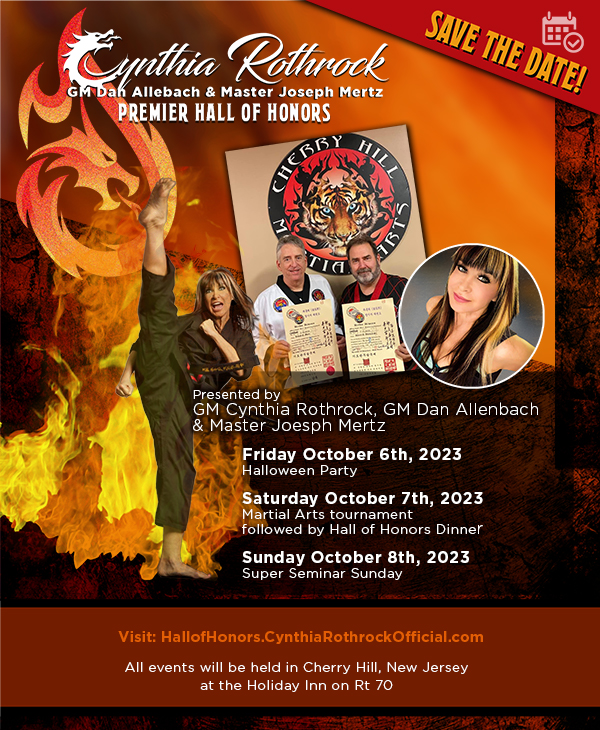 'Frightday Night' Halloween  Party

Friday Night: 7:00pm to 9:00pm
Get your costume together and kick off the event with a Halloween Party to remember.
Halloween Havoc
Martial Arts Tournament
Saturday is a full-day of tournament action. Saturday night includes the "Premier Hall of Honors" Awards Banquet — a night to remember, with entertainment, food, and an outstanding award ceremony.
Open registration for tournament at 9:00 am
Tournament starts At 10:00 am sharp
Saturday dinner will start at 7:00 pm
See pricing and details below for more information.
Super Seminar Sunday
Get a full-day of martial arts training with several world class martial artists.
Sunday seminars will start at 10:00 am
Four – 1 hour seminars

---
Includes Dinner with Award, Halloween Party, and Super Seminar Sunday
---
Includes Dinner with an Award presented at the banquet
---
Includes Dinner Ticket Only
Super Seminar Sunday only
---
Includes Access to all Super Seminar Sunday presentations
---
Includes Admission to Friday Night Halloween Party Only
Use one of the three payment methods below to send your registration payment. Be sure to include your registration details.
Halloween Havoc
Martial Arts Tournament:
Saturday, October 7, 2023
All ages , All ranks , All styles
$ 55.00 first event – $5.00 each additional event
Patterns
Weapons
Breaking
Sparring
$55.00 for Team demo
Grand Champion Trophies Awarded for:
Patterns
Weapons
Breaking
Mens sparring winner
Woman's sparring winner
Team Demo winner
Cherry Hill Holiday Inn
New Jersey on Rt 70
2175 Marlton Pike Rd West
Cherry Hill, New Jersey

$164.00 per night
Code – Cynthia Rothrock Premier
Check In: 3PM
Check Out: 11AM
Ph: 1-856-663-5300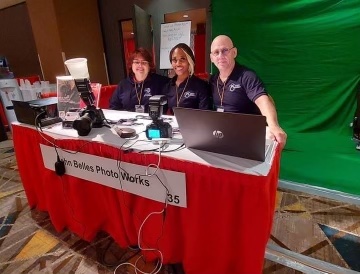 John Belles Photography will be taking pictures throughout the weekend for all events.
Pricing:
Photos taken against the green screen printed out during the event will are $20.00 each.
Digital photos that are emailed to you are $15.00 each.
Any photo that is printed out and mailed is $40.00 each, if paid on that weekend, $43.00 if electronic payment later on.
Photos taken on the green screen will not be posted until paid for. Darla can take green screen photos.
We are also offering a Flash Drive of the whole event for $75.

Four (1) one hour seminars held on Sunday, October 8th